Radioactive contamination was strongly conditioned by the weather conditions of that day. In the hours following the disaster, two high-pressure areas, one wedge-shaped on Central Europe and one on the Mediterranean, insisted on the area.
On Saturday 26 and Sunday, April 27, 1986, the wind blew north, investing Belarus and the Baltic States, then turning to the north-west on the following Monday, on Sweden and Finland, and finally west on Poland, northern Germany, Denmark, The Netherlands, the North Sea and the United Kingdom.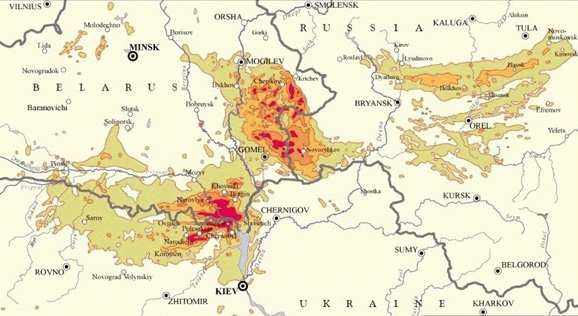 From Tuesday 29 April to Friday 2 May a depressed area on the Mediterranean moved south, recalling a flow of air from the north-east on Czechoslovakia, Hungary, Croatia, Slovenia, Austria and northern Italy, then slipping partly on the arc Alpine, investing Switzerland, southeastern France and southern Germany, and partly on the Apennines, investing central Italy. From Sunday 4 to Tuesday 6 May, the wind turned south, investing again Ukraine, Southern Russia, Romania, Moldova, the Balkan Peninsula, as far as Greece and Turkey.
The emission of radioactive steam ceased on Saturday 10 May 1986.
From that moment thousands of people were exposed to very strong radiation that caused them death or serious deformations. Even today, those populations pay a very high price, especially the younger ones, children abandoned in the Belarusian orphanages.