In Belarus, thousands of disabled children spend their lives in the "Internats", huge orphanages where they live between 200 and 350 children. Places that are not always welcoming but anonymous, where there is no love and the warmth of a family that children need so much. Many, many small and large abandoned by their parents because deformed and different, because being disabled in Belarus is a burden and is still, unfortunately, a shame for the family.
The "Internats" are government institutions that host people who have suffered physical damage from the 1986 Chernobyl tragedy and disabled people in general. They are a middle ground between an orphanage, a nursery school and a hospice. Tens of thousands of people spend their entire lives here and yet these institutions are hidden, isolated and often mostly the Belarusians do not know about it.
The appearance
Our group has been visiting our little Belarusian friends for the past 10 years. The structures with the passing of the years, the group veterans tell us, have been modernized and embellished aesthetically. Entering these huge structures, however, what is striking is certainly composure, rigor, rules. Everything seems like in a beautiful fairy tale, everything in its place, kind teachers that take care of the boys, colored rooms. But we have all noticed one thing. Attention is lacking, taking care of every single child with pampering, with an extra attention, with a caress and also, why not, with the right rehabilitation therapies.
These structures often show obvious technical shortcomings for the way they care for disabled children. For example, very little physical or educational therapy is offered. This directly affects the lives of many children, especially those who have small physical deformations or mild mental delays. With the right care since childhood, these children in Italy would become women and men inserted into society with their own work and would have an independent and dignified life.
Human relations
What is missing from the Belarussian institutions more than anything else is human relationships, personal care, raising children in an environment with the warmth and love of a family. Obviously all this is difficult to achieve in structures as large as these. Where there are so many people to treat, the number is strongly privileged and there is a tendency to distort the emotional relationship. And here the needs of affection emerge. Often there are few recreational activities and the possibility of a private life is completely missing. After all, how could it be otherwise if you live in dorm rooms with 10 or 15 other people? Affective relationships are badly seen and very often they are even forbidden.
Finally, integration with the local company is non-existent. Structures are often built away from countries where "people do not see" these people, these "monsters" deformed as the most serious children are defined. The structures are often isolated from the rest of the world with fences or walls and are also difficult to reach by public transport (we have also confirmed this by going there with a car). This unfortunately causes the boys receive little or no visit even from the parents or relatives who have left them there (who knows for what and how many reasons).
Places
We help children who live in the Gomel region, one of the most contaminated areas of Chernobyl radiation.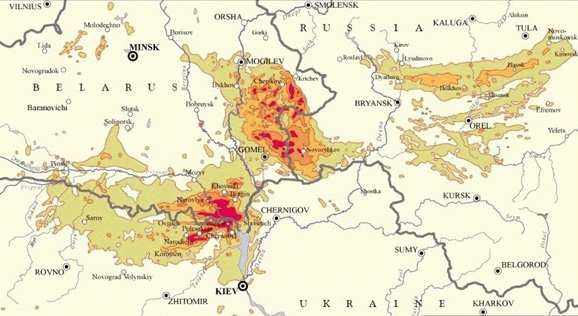 (The map shows the most contaminated areas in red)
Some of the children and young people we bring to Borghetto live in the Zhuravichi Internet. More than 300 physically and mentally disabled children and young people live in this huge orphanage. Down syndrome, mental retardation, learning difficulties, these are some of the most common pathologies in this orphanage. And it is very difficult to know how many of these diseases are caused by nuclear radiation, although almost certainly many are. The orphanage is located in open country far from people, from countries, hidden from society. A place so isolated, almost a world unto itself, where every relationship becomes even more difficult.
Other children come instead from the Rechitsa Internet. About 200 children with physical disabilities and cerebral palsy live here, causing them motor problems and learning.
Here this is a bit of a metaphor of how Belarus sees and lives disability in our day … and the children are still paying the price.